i absolutely LOVE elephants, if you couldn't already tell (: along with all the other beautiful animals in the jungle (: so here are some of my favorite elephant inspired pieces i've come across...
Handcrafted elephant table, at Serengeti for
$149.00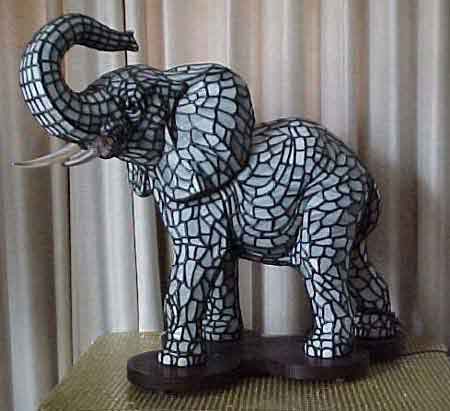 Elephant stained glass lamp for a whopping
$4,500.00
Glass photo pendant necklace made from recycled glass from Fani Song Jewelry for
$25.00
,
they have a lot of really cool eco-friendly jewelry made from recycled glass!
Hand carved elephant wood table
Elephant Safari "Candle" Lamp with Wax Shade, from Aspen Country on
sale for $27.95
NOVICA, in association with National Geographics, has some great elephant pieces from India and Thailand...


(the also have TONS of other handcrafted home decor items from around the world, so definitely

check them out

!!!)



Mango wood vase, 'Silvery Elephant' for
$39.95
'White Elephant' for
$707.95
Batik wall hanging 'Proud African Elephant' for
$129.95
Cotton wall hanging ' Elephants by the Sea' on
sale for $40.46
Cotton cushion covers, 'Mom and Baby' pair for
$54.95
Mosaic art, 'Colors of the Divine' for
$248.95
Cedar bookends, 'Elephant Guardian', pair for
$72.95
Cotton cushion covers, 'Purple Pachyderm' pair for
$54.95
....
and did you know...
elephants have some artwork of their own?
Yup, thats right . . . elephants can P A i N T !